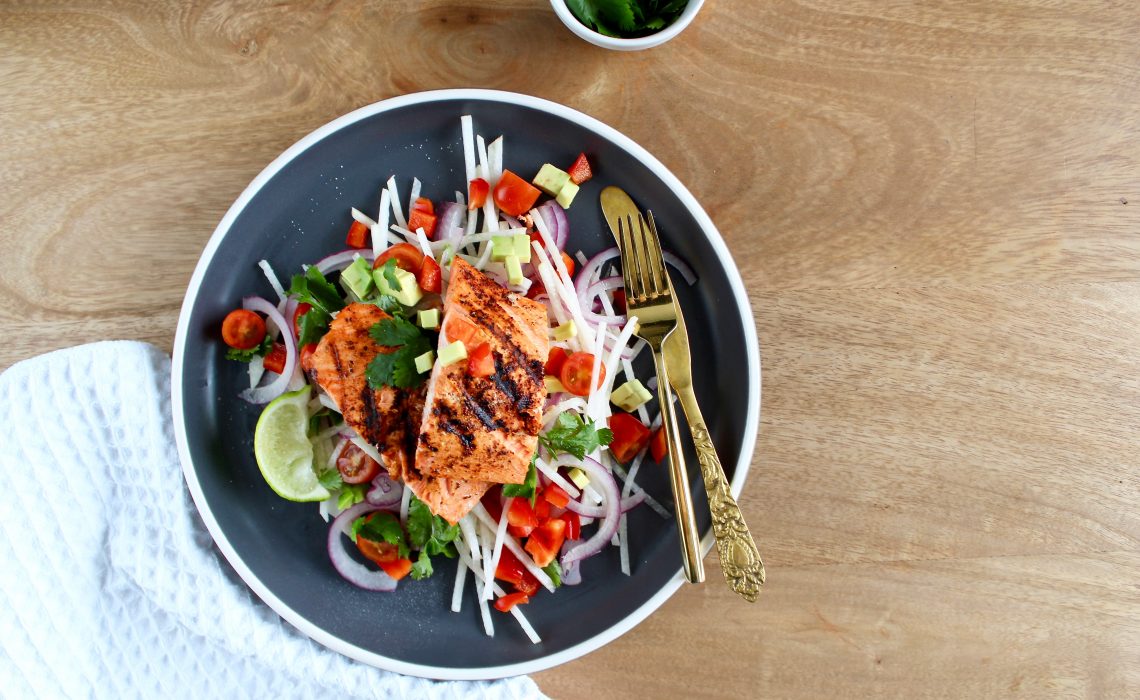 Getting enough sleep, exercise, limiting time in direct sunlight, and reducing stress can help to protect our skin from aging quicker, but it also has a lot to do with the foods we eat. Our bodies need nutrients to fight damage and to build and repair cells. This includes skin cells! Processed and refined foods, and a low-nutrient diet may actually accelerate aging. Thus, it follows that the opposite approach can reduce premature aging.
The question I usually get asked the most is about my skin. "How do you keep your skin looking so dewy?" That sort of thing.
It's flattering; especially for someone who's fought with an inflammatory skin condition (eczema) my entire life. I've spent years focusing on trying to make my skin healthy. I've tried hundreds of different cosmetic products and used prescription medications to manage my eczema. But, it wasn't until I removed certain foods from my diet that are known to cause inflammation, and I started to focus on anti-inflammatory, nutrient dense, hydrating foods, that I saw a vast improvement.
As a holistic nutritionist, and someone who has experienced the healing powers of whole foods first-hand, I firmly believe that nourishing the skin from the inside out is the key to bright, clear and youthful-looking skin for years to come.
Here are my specific recommendations for an anti-aging approach to eating.
Focusing on hydration:
One of many symptoms of dehydration is dry skin. Eat juicy foods that have a high water content and, of course, drink lots of fresh, pure water. Incorporating other healthy drinks like coconut water, herbal teas, or simply adding lemon to your water to jazz it up are all great ways to keep hydrated. Foods like cucumber, celery, watermelon, and jicama contain lots of water, which make them very hydrating and nourishing for the skin.
Jicama may sound intimidating at first, but I guarantee that you'll love it. Jicama is a crisp, white-fleshed root vegetable. The flavour is slightly sweet, and a little nutty. It can be eaten raw or cooked and is very refreshing. I've included a recipe for a Hydrating Jicama Salad with Pan-Grilled Chipotle Salmon that is bright tasting, refreshing, and has a spicy kick. This fatty, wild-caught fish also includes plenty of healthy Omega 3s to help keep skin glowing and youthful.
Essential fatty acids are truly hydrating for all our cells and especially crucial in helping our skin to look youthful and dewy. Incorporating avocado, olive oil, coconut, flax, chia seeds, nuts and fatty fish like salmon, are great ways to incorporate more of these skin-saving nutrients.
Incorporate plenty of antioxidant-rich foods:
Antioxidants are compounds that protect our bodies from damage caused by free radicals. They are the best resources our bodies have to fight disease and aging by reducing damage and inflammation. Yes, inflammation is a leading cause of wrinkle formation and premature aging. Luckily, antioxidants can be found in many colourful whole foods such berries, tomatoes, red pepper, cruciferous vegetables, citrus, leafy greens, as well as herbs and spices like cilantro and cinnamon.
Try more collagen:
Collagen is the most abundant protein in our bodies and helps give structure to our hair, skin, nails, bones, ligaments, and tendons. It not only helps our skin, but also helps to give hair shine and strengthens nails. As we get older, natural collagen production begins to slow down which means our skin can become fragile and lose elasticity.
One of my best, un-kept, secrets to having healthy skin is my daily intake of collagen peptide powder, which can be found at most health food stores. It's very easy to add to your favourite smoothie and also happens to be one of the main ingredients in my Anti-Aging Blueberry Collagen Smoothie! This smoothie is creamy, full of blueberry flavour with a hint of cinnamon.
It's really an anti-aging triple threat with all those antioxidants, hydrating fruits AND collagen. So drink up to slow down the signs of aging.
Anti-Aging Blueberry Collagen Smoothie Bowl
Serves: 1
Ingredients:
For the smoothie:
1 cup frozen wild blueberries
1 frozen banana
1/4 cup cultured coconut yogurt
1/3 cup coconut milk or coconut water
1 scoop unflavoured collagen peptides powder
1 tbsp ground flax
1 tsp ground cinnamon
Optional toppings:
1 tbsp coconut
1 tbsp chia seeds
1 tbsp hemp seeds
1 tbsp goji berries
fresh berries for topping
Method:
Add ingredients for the smoothie into a high-powered blender. Blend, scraping down the sides if needed until smoothie reaches a soft-serve consistency.
Scoop into a bowl and sprinkle with favourite toppings.
Hydrating Jicama Salad with Pan-Grilled Chipotle Salmon
Hydrating Jicama Salad with Pan-Grilled Chipotle Salmon
Serves 2
Ingredients:
For The Salad:
1 small jicama, cut into matchstick size
1 cup cherry tomatoes, halved
1/2 large avocado, diced
1/2 red bell pepper, chopped
1/4 cup red onion, finely sliced
1-2 cloves garlic, minced
1 tbsp fresh lime juice
1/2 tsp ground cumin
fresh cilantro, chopped
pinch of salt
For The Salmon:
1 tsp olive oil
2 wild salmon fillets, skin on
1/2 tsp sea salt
1/2 tsp chipotle powder
Method:
Combine and toss together all the ingredients for the salad in a large bowl. Set aside.
Heat grill pan over medium-high heat and drizzle with olive oil.
Season salmon fillets evenly with sea salt and chipotle powder. Add fillets to the grill pan skin side up and cook for 4-5 minutes. Flip and cook for an additional 4-5 minutes or until cooked to desired liking and skin is crispy.
Remove from the pan and serve over jicama salad
Note: cooking time may vary depending on the thickness of the fillet.