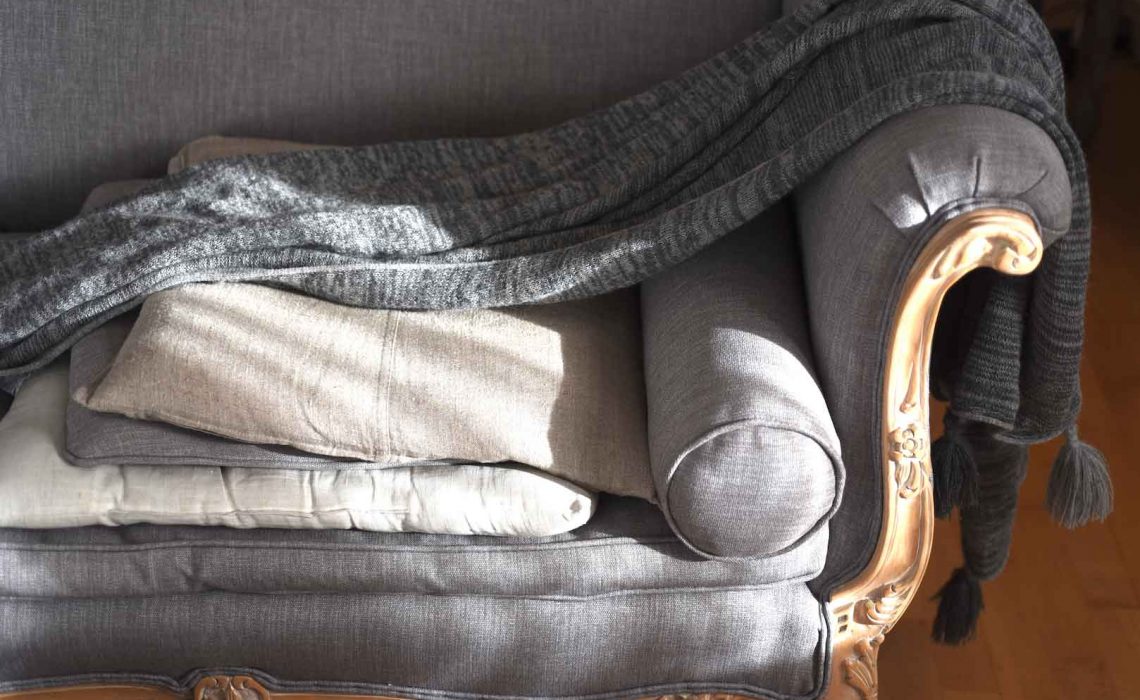 Winter may not officially begin until the third week of December, but by November most of us are bundled up in sweaters or scampering to and fro with umbrellas and rain boots as the atmosphere above us turns to grey. Some of us, like myself, long for the beautiful evenings of summer as the light outdoor wanes. So it is especially important to create a home environment that makes us feel content as we spend more time indoors during the long, dark winter months.
As our wardrobes and our mindsets shift with the seasons, our living spaces can also be adjusted to bring us comfort and inspiration. Soothing tones and layered textures can give us a cozy, peaceful feeling.
Blankets, throws and soft, sumptuous textiles can be used in multiples this time of year. They look great stacked in piles and folded one on top of the other.
Think textural, using chunky knits and fluffy mohair pillows with pompoms and fringes for playful visual interest. Sheepskins, including faux versions, can be used not just on the floor as rugs, but also layered over chairs to give them a soft, cocooning feel.
While bringing bright pops of colour into the home might seem to make sense as the days get darker outdoors, I find it more natural, especially in a northern climate, to embrace the palette of the season. Neither masculine nor feminine, grey is timeless, like a grey flannel coat.
Lightened up with tones of white and pale wood, it can evoke a Nordic palette of snow, stone, and birch. Shades of grey, pewter, and charcoal have made their way into kitchens and bathrooms as well, with painted cabinetry, marble counters, and oxidized metal hardware.
A great neutral, its versatility makes it ideal when introduced as a smaller accent. Seek out natural fibres in wool or alpaca blends for knitted, woven or felted choices such as cushions, throws or poufs. I suggest using candles and are to provide the warmth and light we crave.
The flicker of candlelight brings atmosphere to a winter home, and with scented candles, you can add that as an extra sensory experience. There are so many fantastic all-natural options for candles to choose from. I recommend tinned or jarred candles that are a soy wax or soy/coconut blend, with pure essential oils as fragrance. They are much healthier and will impart an authentic aroma. One of my favourites is a fig and almond blend, which is earthy and warm yet not overpowering.
If you want to bring in some colour for warmth I suggest a lovely palette of fawn browns and blushy coppery tones. They mix so well with wood accents in a home and echo colours found in our forest floors this time of year.
As we get closer to the holiday season you can bring in smaller accessories with hits of metallic – silver, gold and copper metals – to give a little bit of shimmer and festivity to your space as you celebrate with friends and family and prepare to embark upon a new year of seasons.