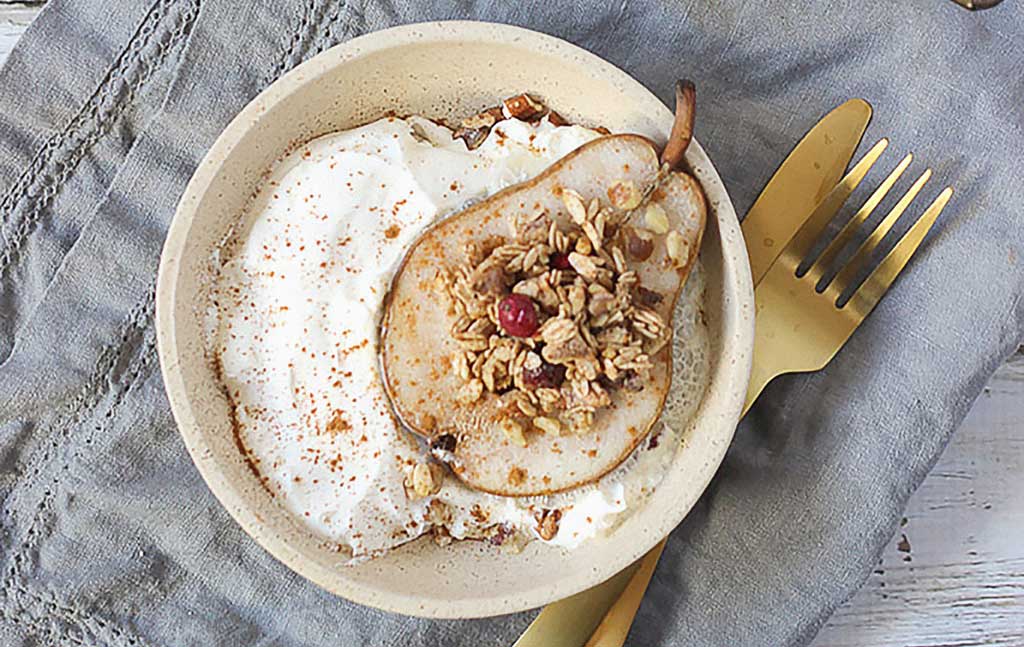 With the cold months approaching we know you'll appreciate this cozy cranberry pear bake recipe. Because who doesn't want to nuzzle up to a delicious dessert while also supporting a healthy immune system?
This warm and sweetly spiced treat is rich in antioxidants to help fight those free radicals and keep our defenses up against colds and cases of flu.
Pears are plentiful this season and 'pair' nicely with cinnamon, walnuts, and pecans. See how we did that?
Along with being rich in antioxidants, pears contain lots of fibre to help lower cholesterol and inflammation. Cranberries are packed with antioxidants too. In fact, did you know this tiny, tart berry contains one of the highest concentrations of those immune-boosting nutrients of any fruit? Their tangy zing balances out the other sweet flavours here nicely. Coupled with the superfood spice cinnamon this dessert will not only tempt your tastebuds and make your home smell amazing, but can also keep those viruses and bacteria at bay.
Nuts like walnuts and pecans contain high amounts of vitamin E, which helps protect the skin. Did you know the skin is one of our body's first line of defence against invading pathogens? That's right! Our skin acts as a barrier to any nasty bugs wanting to enter the body. So, making sure it's nourished with antioxidant nutrients is important.
This dish is easy enough to be served at home during a weeknight or brought to a gathering of friends. Heck, you could even eat it for breakfast if you felt like it!  
Note: If bringing to a gathering, I suggest preparing the dish at home and popping it in the oven 20 minutes before dessert is to be served.
Recipe serves 4 but can easily be adjusted to make more!
Maple-Cinnamon Baked Cranberry Pears
Serves 4
2 pears, sliced in half

¼ cup rolled oats

¼ cup pecans, chopped

¼ cup walnuts, chopped

1 tbsp. maple syrup

1/8 tsp. cinnamon

1/8

tsp. nutmeg

5 cranberries, sliced in half

Optional toppings: coconut whip cream, dairy-free yogurt or ice cream
Instructions:
Preheat oven to 350

°F.

Using a melon baller or spoon, remove the seeds from the pears. This will create a cavity in each pear.

In a small bowl, mix together remaining ingredients.

Scoop mixture into the cavity of the pears.

Place pears on a baking dish and place in oven for 20 minutes.

Remove baking dish from oven (pears will soften and turn a light brown colour).

Serve warm.

Optional steps: sprinkle with additional cinnamon, and serve with coconut whip cream, dairy-free yogurt or ice cream.