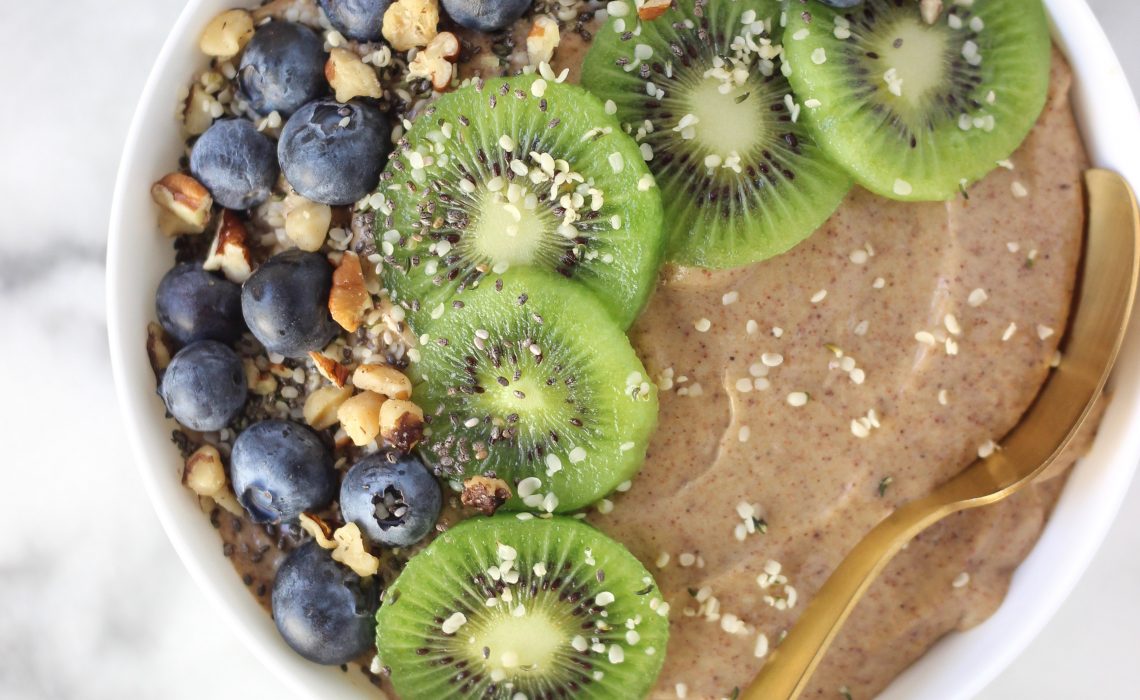 For this recipe, we're combining foods that improve the health and appearance of your hair, skin and nails. This beauty bowl is not only chock-full of beauty-enhancing ingredients, but it tastes so decadent that you'll swear you're indulging in something sinful! Enjoy this smoothie bowl as a snack, dessert, or start your day with it. (Bonus: It's also a hit with kids.)
Loaded with vitamin E from the coconut oil, nuts and seeds – you'll be nourishing your skin with every mouthful. The healthy fats from avocado, hemp hearts and walnuts give it a creamy texture and also boost hair growth and increase shine.
Did you know that in addition to their sweet and creamy texture; bananas also combat the effects of stress with their marvelous minerals magnesium and potassium? And, since stress is a major source of premature aging, this bowl can help keep your skin looking relaxed and youthful.
Raw cacao powder makes this a chocolate-lovers dream, but also adds powerful antioxidants called flavonoids that fight the free radicals that can damage skin and cause wrinkles.
We've made sure to include toppings that are well known to protect and hydrate your skin, but are also fresh tasting and full of texture, to keep things interesting.
We all know that blueberries are loaded with powerful micronutrients that reduce inflammation and slow the signs of aging. In fact, they have one of the highest antioxidant properties of all fruits! Along with the kiwis, you'll get lots of vitamin C from this dish, which is also instrumental in the production of collagen – a protein that is essential for healthy skin.
There are loads of plant-based proteins on top with walnuts, hemp seeds and chia to help repair any damaged skin and keep hair and nails strong. Walnuts also contain those wonderful omega-3 fatty acids for keeping your skin and hair cells hydrated. They also contain other important nutrients for the skin, such as zinc and selenium to protects against oxidative stress.
It doesn't need to stop there. You could add your own beauty-enhancing ingredients to this recipe, such as sunflower seeds, pumpkin seeds, other berries, or even a good quality, plant-based protein powder.
The final ingredient is gratitude. Slow life down and take a few minutes to savour each bite. This is a great opportunity to focus on your beauty within!
Ingredients
Base:
½ ripe avocado
2 medjool dates, pits removed
1 tbsp Silkeny coconut oil, melted
2 frozen bananas, chopped
3 tbsp Organic Traditions raw cacao powder
Toppings:
2 tbsp hemp hearts
5-6 whole walnuts, crumbled
¼ cup blueberries
½ kiwi, sliced and skin removed
1 tbsp chia seeds
Instructions
Dates can be soaked for 1-3 hours if preferred. (Make sure to remove any pits before adding to food processor.)
In food processor, blend the dates and avocado until smooth.
Heat coconut oil in a pan on low heat until it melts completely. Add to mixture and blend again.
Add the frozen bananas and cacao powder and blend until smooth (pudding consistency).
Spoon into a bowl and sprinkle toppings, or put in a container with a tight-fitting lid in the fridge to be served later.
Resources
Bio:
Marta & Brock Picken are plant-based vloggers and parents of two littles from Guelph, Ontario. Their shared passion for health and fitness resulted in the creation of "Fit For Two TV" on YouTube, where you'll find almost 500 videos of healthy inspiration! Their mission has always been to inspire others to lead healthy and happy lives. You'll find vegan recipes, home workouts, lifestyle tips, and more on their channel.
YT: FitForTwoTV
Insta: @fitfortwotv