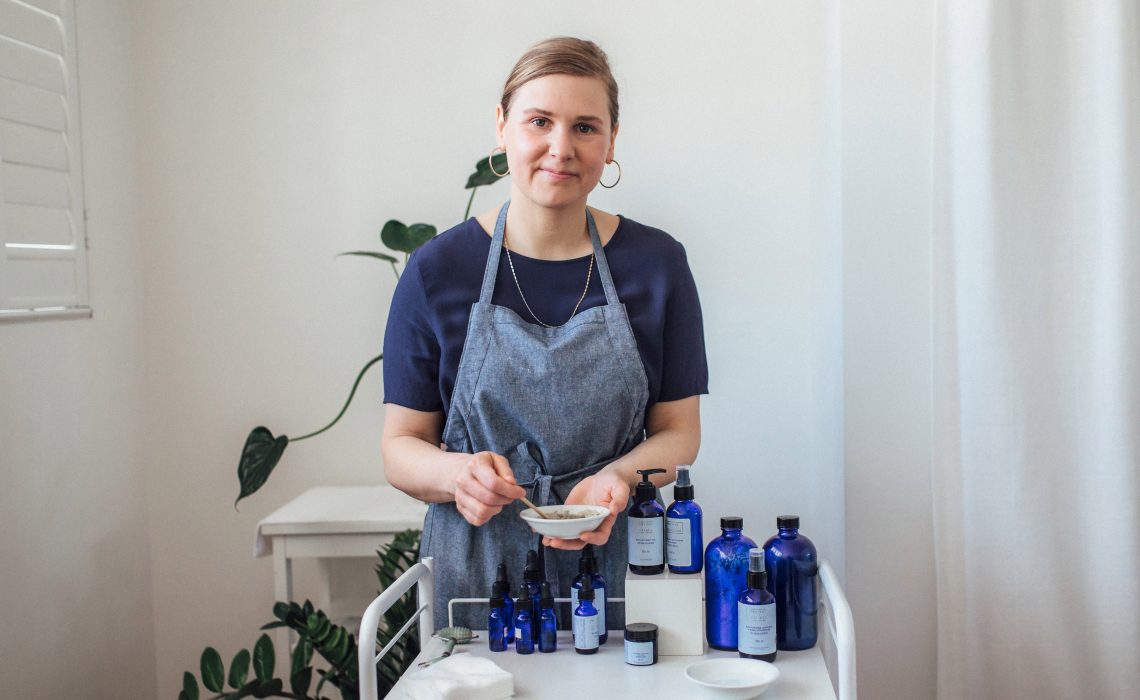 Julie Clark, helps her clients achieve radiant skin with her empowering, holistic esthetician practice and a super successful line of handcrafted, organic products.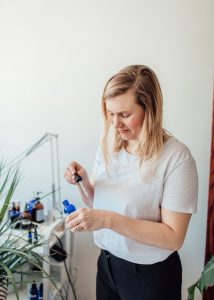 After struggling with eczema her entire life with little relief from conventional approaches, Julie Clark began crafting her own natural, organic skin care products from her kitchen.
What started as self-empowerment, has developed into one of Canada's leading organic skin care lines.
Through the last 6 years of organic entrepreneurship, Julie has remained committed to innovation, sustainability, and small-batch skin care of the highest quality.
Province Apothecary also has a bricks-and-mortar location in downtown Toronto where clients come from far and wide to experience Julie's signature approach to holistic esthetics.
Q: How did your lifelong struggle with eczema and allergies propel you to start an all-natural skin care line?
I really wanted to find a natural way to heal my eczema and couldn't find anything out there so I started studying plant medicine and just fell in love with the healing modality. I developed my eczema balm (this was the first product in the line) and saw results. And, because it worked so well for me, I felt compelled to help other people with their skin concerns. I continued to build the line from there.
Q: You must see a lot of clients who are at the end of their rope with their skin concerns; who are not finding help through "mainstream" methods. Why do you think more and more people with sensitive skin are showing up at your door?
Because our products and our treatments (facials and working with our naturopath) really work and so many people have seen amazing results. Word has spread and we're seeing a growing clientele as a result. There is also a movement happening where people are understanding the connection between their skin and their inner health and lifestyle.
Q: Describe what a holistic esthetician and aromatherapist does.
A holistic approach to esthetics means attending to your clients' inner health and well-being as well as to the care of their skin. With regular esthetics, they don't consider what's happening inside your body, just what's on the surface. At PA we like to think about the skin as part of the whole person.
We use aromatherapy in our treatments to give our clients an even deeper holistic facial. We use safe dilutions that will help heal and strengthen the most sensitive and reactive skin. The essential oils of certain plants can be an effective tool in healing the skin as well as calming anxiety and stress.
Q: Now, 8 years into expanding your knowledge of holistic skin care, you've cleared your skin and improved both your allergies and asthma. What's the biggest lesson you've learned about dealing with these conditions naturally?
That taking a holistic approach to healing your skin is the best way to see real and lasting results. I developed our eczema balm specifically for myself and my eczema because I couldn't find anything that really worked, and it has been a skin saver. It has really help heal my skin and reduce the damage I did to it with steroids.
Using the right products, topically, is half the battle but understanding the importance of caring for my internal health is absolutely essential for radiant healthy skin and improved health. I always say our skin is a reflection of our internal health, so eat well, reduce stress and get enough sleep.
Q: Your company uses only organic ingredients that utilize wild-harvested herbs, oils and other raw materials from different provinces across Canada. Ingredients like maple syrup, lentil flour, and seaweed. What are some of your favourite ingredients and why?
I love all the ones you just mentioned. Our ingredients are so incredible. It's really what makes our products so powerful and effective and different from mass-market skincare. I love how vibrant and potent all of our oils are. Each oil is unique in colour, texture, and smell. A few of my other fave ingredients to use are:
Sunflower oil from Ontario because this oil is rich in Vitamins A, B, D, and E and uniquely high in omega-9 fatty acids that help the skin retain its natural softness. It's easily absorbed into the skin without clogging or blocking pores.
Calendula is another ingredient I use frequently. Calendula oil gently cools and nourishes dry and damaged skin so it's ideal for addressing inflammation, scars, wounds, rashes, and even diaper irritations.
Lavender essential oil is wonderful as well. In addition to its soothing and healing aroma, it's antiseptic and antifungal, which helps speed up healing, reducing blemishes and scars.
Q: Holistic esthetics is more than just ingredients though, tell us about your pledge to help your clients 'feel good in their own skin.'
Our motto is: love your skin and we teach you how to take care of your skin 365 days a year. We want to empower you and educate you about your skin and what its needs are so you can take care of it.
We teach our clients how to massage their skin the right way using our oil serums and we provide online posters and videos on our website to help master the techniques and share with others. Our blog is also updated every Thursday; we share info about skin care, food and collaborations with other wellness experts.
Q: The natural, green beauty product industry is growing fast and furiously in North America and beyond with new products being introduced to the marketplace every day. What makes your products stand out?
Our ingredients and our company ethos set us apart. We're not just selling products; we are offering knowledge and education for a more honest approach to beauty needs.
Q: Tell us about your best seller? Why so popular?
Our Daily Glow Facial Dry Brush has become one of our best sellers because it's so amazing. Most people dry brush their body and not many people dry brush their face, but we're hoping to change that. Dry brushing is so amazing for gently exfoliating and stimulating to blood and lymph flow, which helps to brighten the skin and improve overall function. Lymphatic drainage also helps reduce puffiness and congestion in the skin, among many other benefits.
Q: If you could give our readers just one bit of beauty advice for the summer months, what would it be?
Stay hydrated! Internally (water/herbal teas) and externally with a good nourishing oil serum. And cover up using a good mineral SPF, hat, and sunglasses.
After struggling with allergies and eczema all her life, Julie Clark began crafting natural, organic beauty products out of her kitchen to treat her own skin. Now an accredited Holistic Health Practitioner, Skin Therapist, and Aromatherapist, Julie aspires to create pure, effective products that benefit even the most sensitive complexions as part of a holistic approach to beauty and wellness. Province Apothecary sources the highest quality organic wildcrafted ingredients from each Canadian Province and hand-blends these ingredients in small batches to create skincare that will nourish and balance skin.
IG: @provinceapothecary Facebook: @province.apothecary