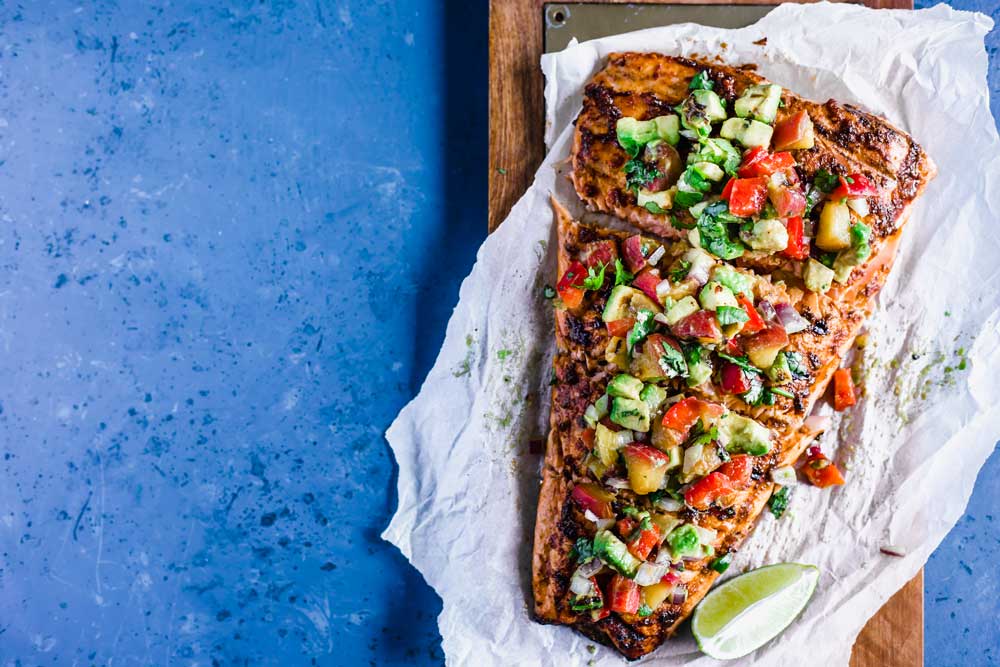 Lighten up your summer grilling with these tasty and refreshing recipes loaded with healthy fats for delicious flavour and a great summer complexion!
BY KIRSTEN BUCK, RHN
On hot. humid days, I prepare most meals on the grill to keep the house cool. Cooking on the grill also means making simple and refreshing salads, dips and salsas that keep things light and easy.
I like to focus on basic ingredients that are bright in colour and flavour, like my Grilled Avocado Peach Salsa! Fresh peaches with creamy avocado, bell pepper, onions and jalapeno make a great summertime salsa. It's so easy to prepare and is the perfect balance of sweet and spicy, plus it's rich in healthy fats from both the avocado and extra-virgin olive oil.
These healthy fats are anti-inflammatory and great for keeping the skin well hydrated and smooth. As the weather gets more humid this time of year, inflammatory skin conditions like eczema are more problematic for some, including myself.
Along with anti-inflammatory compounds that ease eczema, avocados also pack a punch of vitamin E, which helps to prevent free radical damage, boost immunity and act as an anti-aging nutrient for healthy, glowing skin. Extra-virgin olive oil also contains polyphenols that act as antioxidants, reducing oxidative stress throughout the body, which can have a positive impact on skin health as well.
This recipe is not short on flavour either! The longer the avocado peach salsa marinates, the bolder the flavour becomes. Not a fan of spice? Remove or reduce the jalapeno for a milder version. Serve with organic taco chips or as an addition to a bright taco salad. It also makes a great topper for grilled proteins like chicken, shrimp, flank steak or my Grilled Chili Salmon!
The chili rub for this salmon recipe is slightly smoky and pairs perfectly with the sweetness of the avocado peach salsa. I love the charred flavour of the salmon when grilled on the barbecue, but baking in the oven also works.
Salmon, like avocado oil and extra-virgin olive oil, is full of healthy monounsaturated fats, but it's also very high in omega-3s which are superstar fats for the skin. A lot of these fats are actually stored in the skin after the salmon is cooked! So make sure you're purchasing skin-on salmon to reap the full anti-inflammatory benefits.
Salmon is also packed with protein and vitamin D to help your cells produce collagen, keratin and melanin. These proteins can help the skin retain water which is great for reducing wrinkles and fine lines.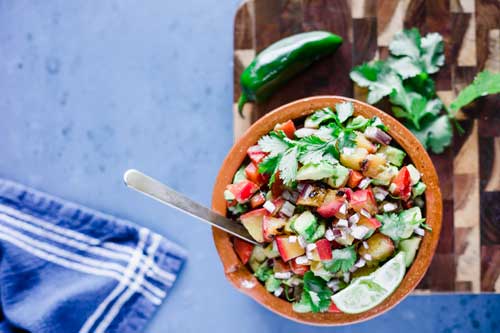 Grilled Peach and Avocado Salsa
Makes: 4 cups
Ingredients
3 large ripe peaches, peeled, pitted and diced
2 avocados halved, peeled, pitted and diced
1 medium red bell pepper, chopped
1/2 small red onion, chopped
1 jalapeno, seeded and diced
1/4 cup fresh cilantro, chopped
1 tbsp extra-virgin olive oil
1 large lime, juiced
1 tsp sea salt
1/2 tsp cumin
1/2 tsp chili powder
Instructions
1. Preheat grill on medium high heat. While grill is heating, slice peaches in half lengthwise and remove pits. Brush flat sides of each half generously with olive oil to keep from sticking to grill.
2. Once grill is hot, add peach halves, cut side down and close lid. Grill for 4 minutes. Using tongs, carefully remove grilled peach halves to plate. Set aside and allow to cool. When cooled, cut into small cubes.
3. In medium bowl, combine peaches, avocado, bell pepper, onion, jalapeno and cilantro.
4. Drizzle with olive oil and lime juice, then season with sea salt, cumin and chili powder. Toss to combine and set in refrigerator for at least 30 minutes before serving.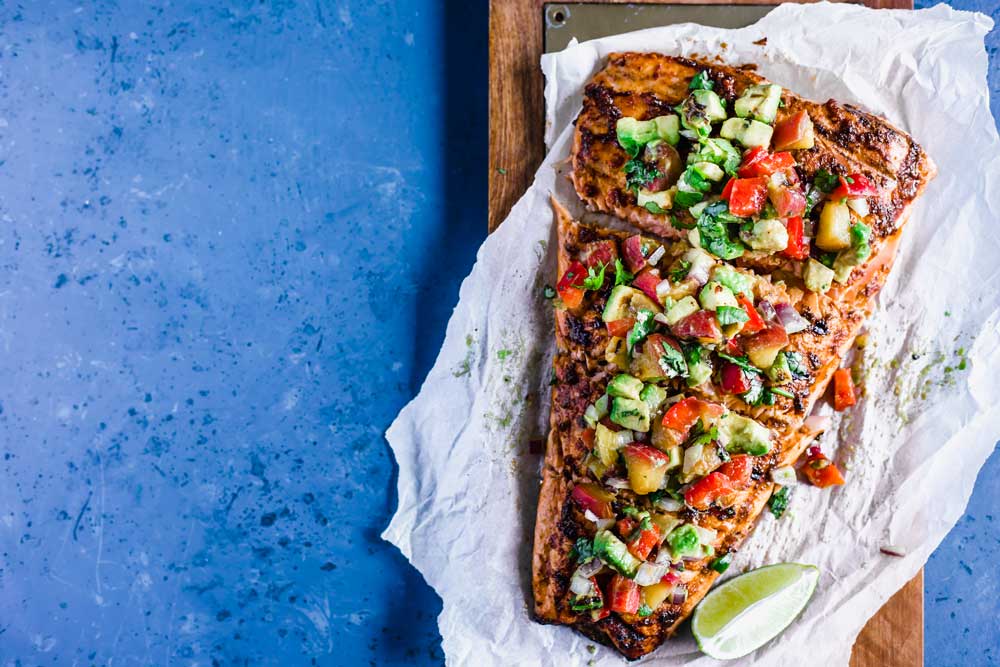 Grilled Wild Chili Salmon
Serves: 4
Ingredients
1 (1 to 1 1/2 lb) skin-on wild salmon fillet, pin bones removed
1 tsp sea salt
1/2 tbsp chili powder
1/2 tsp cumin
1/2 tsp paprika
2 garlic cloves, minced
1 tbsp extra-virgin olive oil
1 tbsp fresh lime juice
Directions
1. Dry salmon well with paper towel and set on plate. Season evenly with sea salt. In small bowl, combine chili powder, cumin, paprika, garlic, olive oil and lime juice; stir to form a paste.
2. Spread paste on flesh side of salmon fillet in a thin layer, distributing evenly. Set aside at room temperature for 15 minutes.
3. Prepare grill for high direct heat. When grill is hot, place salmon fillet flesh side down on grill. Close lid and cook 2 to 3 minutes, depending on how thick fillet is. Carefully flip fillet and reduce heat to medium. Close grill lid. Cook for another 2 to 3 minutes or until done. Salmon should be hot and just barely opaque throughout when done.
4. Remove from grill and let rest for 5 minutes. Top with Grilled Peach and Avocado Salsa just before serving.