Green Curry Cauliflower Roast

Masters in the kitchen - Lauren Toyota and Kim D'Eon make a Green Curry Cauliflower Roast! Check-out the "Mindfully Meatless Q&A with Lauren Toyota" here: https://vistamag.ca/lt

Posted by VISTA Magazine on Tuesday, July 10, 2018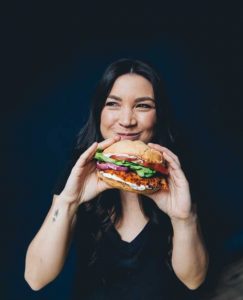 Named one of Canada's most influential vegans, former MuchMusic Host, Lauren Toyota is now known for creating mouth-watering meals on her successful YouTube channel, hot for food. She tells us about embracing and creating change.
Q. You made a decision to go vegan in 2010 for health reasons, but you credit the dietary change with helping you to become a more conscious and mindful person. What was the pivotal moment that helped you make that mental switch?
I don't think there was one kind of "light bulb" moment. But I felt the effects of being clean and clear in my mind, body, and soul after only about four weeks of eating fully vegan. From there, I just was on that path. A few years later, in early 2013, I actually meditated for the first time. I didn't necessarily make the connection between being vegan and finding meditation. But, over the years, I've made the connection between what goes into the body and how the body can then be open to receiving information and being more attuned to your mind and soul.
Q. How does veganism enhance your spiritual alignment?
Food is our fuel. So, of course, it affects how we perform mentally, emotionally and physically. I think about it like this: most of the meat on the market comes from animals that are confined, likely handled roughly and living in poor conditions, in fear and stress.
The moment before slaughter, fear and adrenaline escalates and floods the tissue that becomes meat for consumption. I don't want to consume that. Once I made the connection that a pet dog or cat is the same as the farm animals we've been conditioned to believe are just for food, my perspective changed drastically. I've embraced the worldview that we're all one and therefore, things that affect any part of the whole will affect us on an individual level and vice versa. I believe making this connection brings us closer to source energy.
Q. You've been on a transformational journey for quite a while now, moving on from TV show host to creating and running your own YouTube channels. You've recently ended a long-term romantic relationship and moved your home for the third time in a few years, all while writing and photographing your first cookbook! Yet you always seem to beam positive energy. How do you create space to practice mindfulness in the midst of it all?
It's the only thing that matters. If I didn't do that I wouldn't be able to handle all these things in a healthy way and see the benefit of it all. Meditation, yoga, travel and being out in nature as much as I can are the things I need to keep me sane. I don't create anything good unless I've spent time in meditation connecting to my truest self.
Don't get me wrong, I get stress and anxiety as much as the next person, but I've found tools to help me release it and use it in a positive way. It's just excess energy that needs to go somewhere. My output might as well help people!
Q. Where do you get the stamina to create, write and photograph an entire cookbook on your own?
Well, it was a bit of naiveté on my part, but I also didn't want to stress about having to reinvent the wheel. Once I had a book deal I thought I needed to be "more professional" which in my mind meant maybe hiring a photographer, a stylist, an assistant or something, because that's what other people I had spoke to had done.
But those people also didn't already do all those things for their brand. I am the photographer, I am the stylist, I am the writer, I am the person who conceptualizes the recipes and preps the food. And I love doing all these things. So I just did what I do normally and tried not to get psyched out by the fact that I was creating a book!
Q. You've amassed a loyal following, both through your personal social channels and with your hot for food platform. You've been touring around North America with the book where you've had the opportunity to meet your followers face-to-face. What's been the most rewarding part of building this community?
Everyone is so enthusiastic which is amazing. They're also honest and compassionate. I always see the community as a reflection of me; like attracts like. Thankfully, I haven't had to put up with much of the BS that the internet can sometimes breed. But the best part of having this loyal community is that they've managed to change their lives and become empowered when it comes to their health and wellness, as well as learning to be confident in the kitchen and trying new things. I just want to be the catalyst for people. They do the real work.
Q. Why do you think other people are so fascinated by watching you eat?
I do not know, honestly. But I'm super appreciative that it's something I enjoy doing and can create some kind of entertainment out of! Also, maybe it's just that people are looking for more human connection and realness. It's always been said that chewing loudly, talking with your mouth full and being sloppy are rude manners. But we all do it behind closed doors, standing over the sink eating our lunch. I just show it on the internet!
Q. Your cat, Snickle, is a celebrity in his own right. He even has his own Instagram account @snicklesays! How would you describe your relationship with your cutie?
He is the best ever! I don't know what I'm going to do without him. He's also very cooperative when it comes to photo shoots and such. He loves attention so I think we make a good team!
Q. What advice would you give to someone who's looking to become more plant-based but feels overwhelmed by the change?
I get that it can seem overwhelming, but you just have to take it one small step at a time. You don't need to make the switch 100 percent in all ways overnight. Start with one meal a week or one meal a day and make the swaps to ensure it's fully plant-based. Use up things in your fridge and pantry that might contain animal ingredients, and then go shop for a vegan substitute.
There's no shortage of great recipes on the internet. I'm just one vegan blogger of thousands. Everyone can start making changes in a positive direction and has to, in my opinion, if we're going to stay alive and well. It's not just our health on the line, it's also the sustainability of this planet we live on.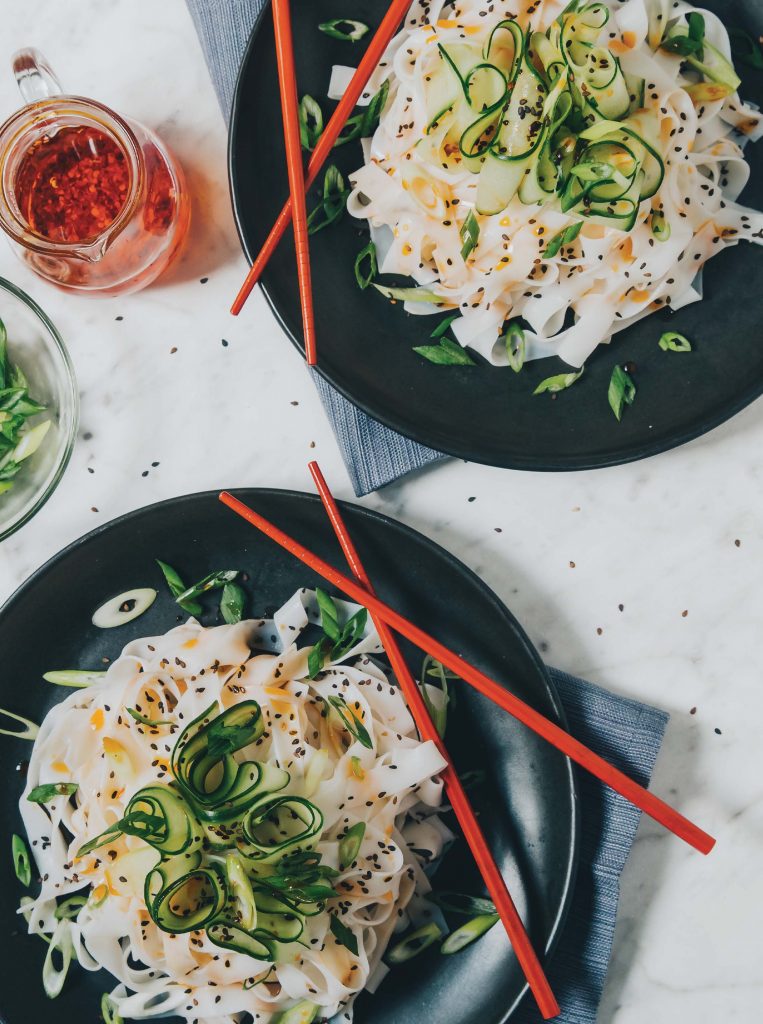 Cold Cucumber-Chile Noodles
I tend to add mega-flavour to everything I cook, but in this dish, I embrace the minimalist trend and really like the simplicity of green onions with spice, sesame, salt, and refreshing crunchy cucumber.
It was inspired by something I ate a couple of years ago at Xi'an Famous Foods in Brooklyn. A friend claimed this menu item, known as A-1, was her favorite thing ever, which I mistook for hyperbole. But I was curious. Well, after ordering it and taking one bite, I was in love and certainly wasn't prepared for a long-distance relationship with this noodle dish so I made my own version!
Makes 4 to 6 servings
Ingredients
1 lb thick flat rice noodles
2 English cucumbers
2 green onions, white and green parts, finely sliced diagonally
2 tbsp toasted sesame oil
2 tbsp sesame seeds
1⁄4 to 1⁄2 tsp sea salt
4 tbsp chile oil
Instructions
1. Bring a large pot of salted water to boil. If rice noodles already contain salt, do not add salt to water. Cook noodles until al dente, approximately 6 minutes.
2. Meanwhile, cut the cucumber into ribbons using a vegetable peeler or slice very thin using mandolin.
3. Drain noodles, rinse under cool water and place in large bowl. Toss with cucumber ribbons, green onions, sesame oil, sesame seeds (reserving 1 tsp for garnish), and 1⁄4 tsp of salt (more to taste, if necessary). Divide among serving plates.
4. Drizzle each portion with 1 tbsp of the chili oil (or use more sesame oil if you don't want spice) and garnish with remaining sesame seeds. You can also toss noodles in only sesame oil, salt, and sesame seeds, leaving the cucumber ribbons and green onions to place on top of the noodles in each serving. I think this looks prettier!
If you have leftovers, soften the noodles by heating them with a bit of water in a covered pan. Drain any excess water before serving.
Excerpted from Hot for Food Vegan Comfort Classics by Lauren Toyota. Copyright © 2018 Lauren Toyota. Published by Penguin Canada, a division of Penguin Random House Canada Limited. Reproduced by arrangement with the Publisher. All rights reserved.