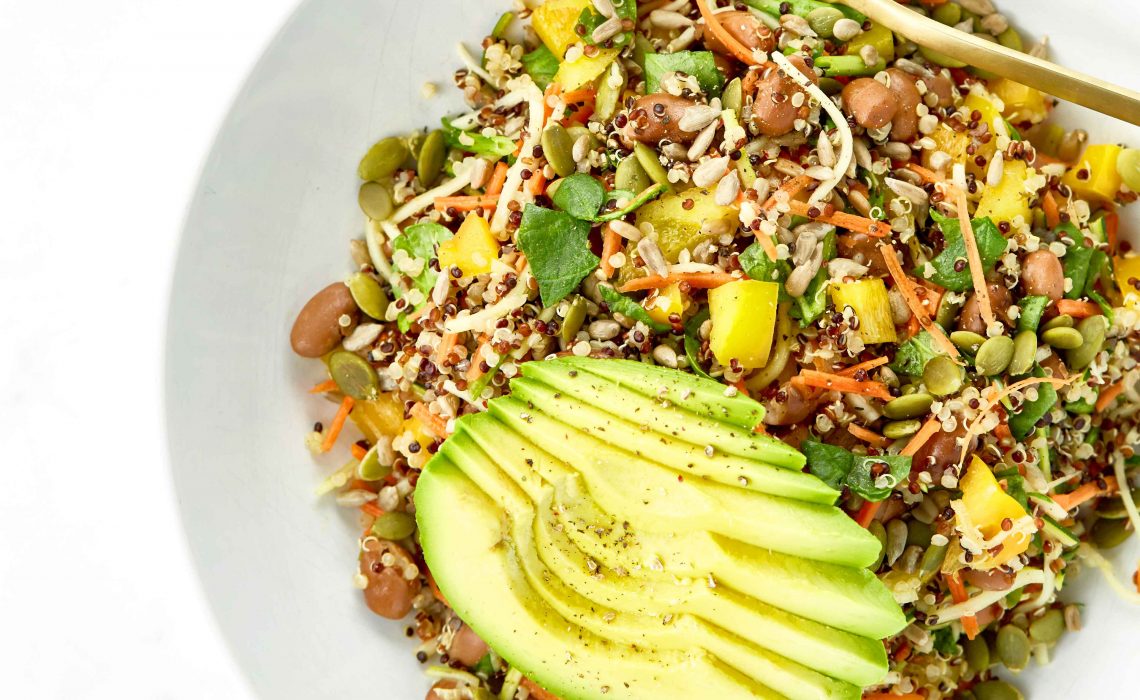 (Q+A with Oh She Glows, Angela Liddon)
As we step into the new year, many of us are looking for ways to feel bright and refreshed. Who better to turn to for advice than best-selling vegan cookbook author, Angela Liddon and expert in all things 'glow'. This busy mom of two also tells us about creating happiness, success and embracing chaos.
1. We've just come out of the holiday season, a time when many of us are feeling that holiday food hangover. What are your best plant-based tips for getting your 'glow on' in the new year?
Everyone is different, but my sure-fire way to get back on track (in less than an hour) is making certain I kick things off with a great sweat and a nourishing breakfast. I feel like a new person after a spin class: it's the fastest way for me to feel myself again, and the endorphin boost motivates me to eat healthy all day long. Afterward, I make sure to enjoy my favourite green smoothie bowl packed with energizing greens like kale, wheatgrass, and broccoli sprouts. Through the day, I also love to sip on a big mug of Healing Broth from Oh She Glows Every Day and whip up homemade tea charged with fresh ginger, turmeric, cayenne, and lemon. But you'll never see me give up my favourite dark chocolate or chips! I think there's room for small indulgences even when making an effort to eat healthier.
2. This is the time of year when the Internet explodes with stories, advice and tips on detoxing. What are your thoughts on this approach to achieving wellness?
I've found that when I'm eating my plant-based recipes I don't really feel the need for a new year's detox because the foods I love tend to already have the added bonus of making me feel great. If I overdo it on sweets (which usually happens at least a couple times over the holidays), I simply try to cut back on treats for a while, increase my veggie intake, and make sure that I'm sneaking in exercise whenever possible. As a rule, I don't do extremes. I prefer not to vilify sugar and tell myself that I can't have it at all because that drives a vicious cycle of making me want it more.
3. Talk to us about your personal relief in transitioning from "vegan" to "label free" and how that has impacted your day-to-day in a positive way.
Let's face it, the eating journey we're all on is ever evolving, and if it doesn't include a little flexibility, then what's the point? With a vegan label, I began feeling mounting pressure—internally and externally—to be perfect all the time. Without a label, I feel much more at ease and confident in trusting my own instincts.
4. Your food photography is beautiful and your recipes look like works of art. How closely does what we see on social media reveal your real-life mealtime?
Thank you! My real-life mealtime is utter chaos with a three-year-old and a one-year-old at the table. It's loud and there's often more food on the floor than on their plates! I really love Instagram stories because they're a place for me to share these real-life snippets of our life. I love to share photos of my daily food go-to's, things like: undecorated smoothie bowls (yep, I often eat them naked because we're so time-crunched in the morning), two-minute avocado-sauerkraut flax wraps, or reheated, leftover soup. Honestly, I'm kind of over the picture-perfect images on social media. It's a fine balance to strike, and I don't think I've quite figured it out completely, but I definitely find myself gravitating toward the more real and "instant" forms of sharing.
5. As a creative entrepreneur with a family (including two little ones) life can be stressful and unpredictable, which can make self-care challenging. You've obviously got things sorted in the nutrition department, but you also incorporate daily "happiness habits" like making the bed daily and turning off your email push notifications. How did you realize that creating these habits was imperative for you and what advice would you give for people looking to create their own happiness habits this year?
Well, it looks like I blew the bed-making commitment a long time ago! Bed-making definitely doesn't happen since having kids (but boy does it feel good when it does). I can say that I've successfully stuck with disabling email notifications on my phone. It was one of the best work-related things I've ever done. Another trick I've been keeping up is one borrowed from my OSG editor, Terra. She suggested finding pockets of time during the day to incorporate small goals that help chip away at mastering a bigger achievement. For example, since I wait three minutes for my French Press coffee to brew each morning, I learned to dedicate this three-minute pocket of time to doing push-ups. It's just a few minutes each day, but I've already noticed an improvement in my arm definition and strength.
For anyone who is looking to create a happiness habit, I would look at the area you most want to improve and then start with a very small, achievable goal. If you need stress relief, maybe commit to doing a few minutes of a meditation app each night while in bed. If you want to improve meal planning, commit to spending just an hour each Sunday to cook. I find—for myself, anyway—small, attainable goals tend to stick, whereas big, lofty ones often become forgotten within a few weeks.
6. Your first cookbook: Oh She Glows was a runaway hit; an award-winning bestseller that won over veggies and non-veggies alike. Your latest book, Oh She Glows Everyday, was recently awarded a Taste Canada Gold Medal Award for best health and special diet cookbook! What do you attribute your success to?
So much of the success I've achieved can be credited to the amazing people I've connected with along the way, and who have inspired and motivated me to keep going. I really believe the Oh She Glows community is made up of the kindest and most inspiring people in Canada, and around the globe, and I'm so grateful for it. There's also been a heck of a lot of hard work over these past nine years. Quality has always been one of my most important goals, and my blog readers have told me that they have a huge level of trust in my recipes and what I do. Earning and keeping that trust with each new post, recipe, or book is so, so important to me.
7. You've built such an amazing platform over the years. Besides your success as a published author, you still run your world-renowned Oh She Glows blog, you have a recipe app and a flourishing social media following! What's your advice for others who are building their dreams or working on manifesting their destiny?
If you can find a thing that, to you, is worth it all—living, breathing, and giving up evenings and weekends for—then succeed in sticking with it for several years without getting bored of it, it's probably a real passion. I've been burned out at times over the years, and I think it's important to allow yourself time and space to take a step back, but there were also many years early on when I just put my nose to the grindstone and worked around the clock. If you find something you love enough, go for it and give it all you've got. I also have to add that I don't entirely agree with the saying "when you're living your passion, it doesn't really feel like work". Pursuing your passion is definitely a ton of hard work, and it can feel like a ton of hard work, but that's okay! It's not all rainbows and sunshine.
8. With two cookbooks and two babies being "delivered" back-to-back two times over, what are your plans for achieving balance in 2018?
Yes, babies and books seem to go hand in hand in our household! (Now that's one sentence I never thought I'd be writing!) I don't seem to do "balance", all that well. Now that we have kids, I find I can have one, MAYBE two, things in balance in my life at the same time. I don't even bother to try to have everything running smoothly because I know it's unrealistic at this stage in my life. I'm learning to embrace the chaos. One big step for me in 2017 was hiring more help for the business (I now have my first full-time team member), and I hope to continue to look for ways that I can ask for help in 2018.