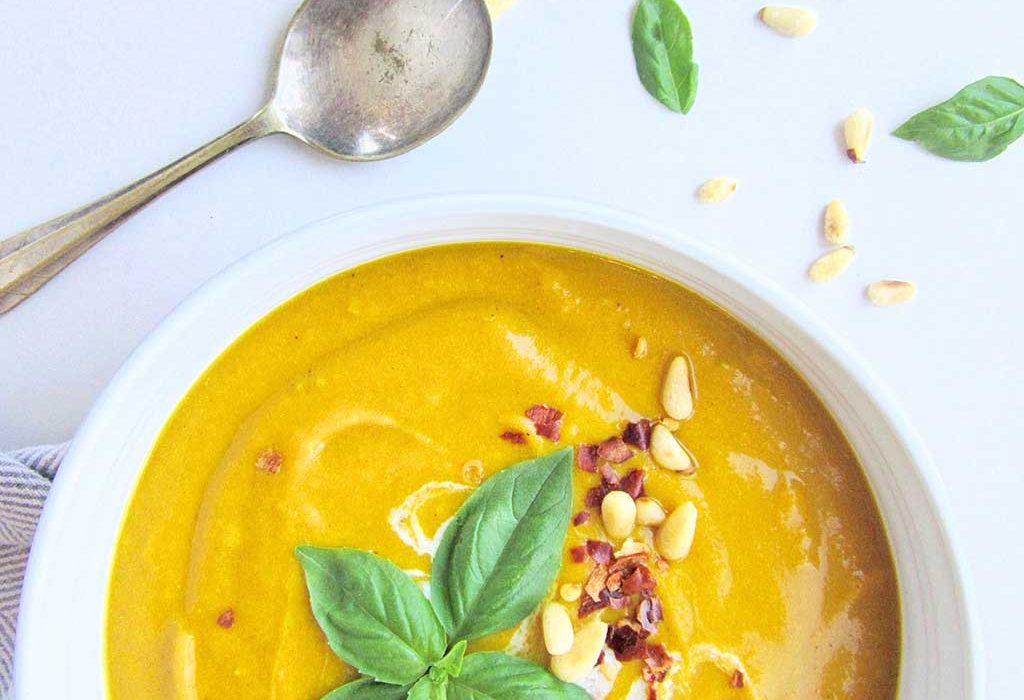 SERVES: 4-6
PREP TIME: 1 HOUR
INGREDIENTS
1 medium kabocha squash (approx. 2-3 lbs)
1 tbsp avocado oil
pinch of salt
1 tbsp ghee
1 small onion, chopped
2 large cloves garlic, chopped
1 tbsp fresh ginger, minced
1 tsp ground turmeric
1 tsp yellow curry powder
1 tsp garam masala
4 cups vegetable broth
2 gala apples (or any sweet variety), peeled, cored, and rough chopped
1 can full-fat coconut milk
salt and pepper to taste
garnish options: fresh basil, sage, red pepper akes, toasted almonds or pine nuts
METHOD
Preheat oven to 400 degrees F.
Remove the stem, and cut the squash into wedges. Remove seeds and stringy bits and discard. Place the wedges on a parchment paper lined baking sheet, drizzle with avocado oil and season with salt. Roast the squash for 25-35 minutes, until tender. Remove from the oven and let rest until it is cool enough to handle, then scoop the meat away from the mesh.
In a large pot, sauté onion with ghee until soft and translucent, about 5-7 minutes. Add the garlic, ginger, turmeric, curry powder, and garam masala. Cook for another 1-2 minutes, or until the spices are fragrant.
Add vegetable broth, chopped apples, and roasted kabocha squash. Simmer until apples are softened.
Transfer to a blender, and add coconut milk. Blend until smooth and creamy. Top with fresh herbs, toasted nuts or seeds, and red pepper makes for heat.