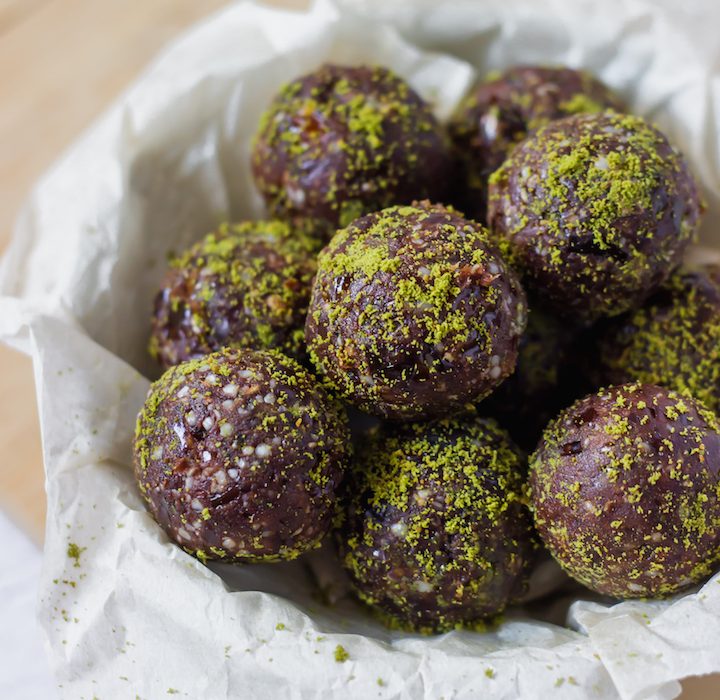 By Brock and Marta Picken
Magic Matcha Balls
Makes 25-30 balls
16 dates
2 tbsp hemp hearts
2 tsp coconut oil
2 tbsp cacao powder
2 tsp vanilla extract (alcohol-free)
2-3 tbsp matcha powder (for dusting the balls)
Directions:
Blend all of the above ingredients (except the matcha) in a food processor.
Roll into ping-pong sized balls, and then roll each ball in a plate of matcha powder to "dust" them.
These Magic Matcha Balls provide a great pick-me-up at any point in the day. The naturally occurring sugar in the dates gives some quick energy, but the fat from the coconut oil allows for some sustained energy. The matcha gives a slow-release of caffeine, while the theanine in the matcha improves focus and mental alertness. All of the ingredients blend well for a creamy texture, with a nice balance of sweet and bitter! The recipe can be made in a few minutes, and eaten immediately, although the balls firm up if given an hour in the fridge. Store them in an airtight container for up to one week, or freeze them for up to one month.
Tangy Homemade Energy Drink
Makes 3 ½ cups or 2 servings
1/2 lemon
1/2 lime
1/2 orange
2 cups coconut water
1 tsp MCT coconut oil
1/4 tsp sea salt
Directions:
Using a manual citrus juicer, juice half a lemon, lime, and orange into a bowl. Remove any seeds. Add the coconut water, coconut oil and sea salt, and stir until mixed well.
Who needs commercial energy drinks loaded with questionable, artificial ingredients when you can make your own delicious energy drink right at home, in minutes? This drink provides the perfect quick energy boost before a workout, and provides sustained energy from utilizing the fat from the coconut oil for energy during activity. Plus, with the electrolyte replacement from the salt and coconut water, it's also perfect for post-exercise. The coconut water helps you to hydrate and is great at quenching your thirst! Mix it in minutes and take it with you in your reusable water bottle on your next family hike or bike ride.